"Murphy has a huge fan base and has won awards for good reason... Great sleuthing with a feline touch." --Cat Fancy

"What makes this series so delightful for both cat lovers and readers of offbeat fantasies is that Murphy's convincing anthropomorphism allows the cats to maintain their feline natures while still adopting human speech and cognition." --Booklist

Click on the book titles for full descriptions including review quotes, excerpts, and purchase links. All books are currently available in paperback, Kindle, epub, large print and audiobook editions. New hardcover copies of some of the most recent ones can still be obtained.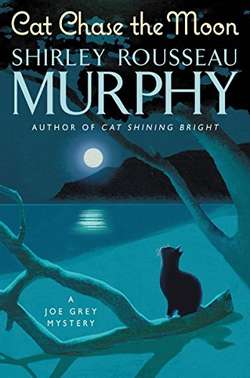 Cat Chase the Moon
(#21, last in series)
Joe Grey and his partner Dulcie are frantic when Courtney, their pretty teen-kitten, goes missing, so he has neglected his detective work with the Molina Point police--and now he's worried by a stalled investigation.

"The Joe Grey series has been going strong for two decades for a reason...it's one of the most remarkable, unique collections of cat novels on the market.... Cat Chase the Moon will leave you purring." --Melissa's Mochas, Mysteries and Meows
---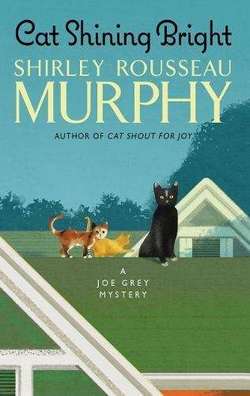 Cat Shining Bright
(#20)
A stranger is stalking the home of Joe Grey's tabby lady, Dulcie, where their kittens were born, and both parents' claws are out, ready to protect their babies.

"The author has created a wonderful little town and filled it with the most interesting characters . . . The new litter of kittens adds more than a little delight and humor to this feline mystery tale." --Huntress Reviews
---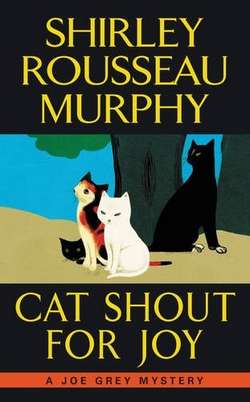 Cat Shout for Joy
(#19)
As Joe and Dulcie stand by for the birth of their kittens, they work swiftly to unmask a killer, a predator attacking the most vulnerable citizens in the small coastal community of Molena Point.

"Cat fans will love Murphy's complex and intelligent feline characters and the special relationships they share with their human housemates." --Publisher's Weekly
---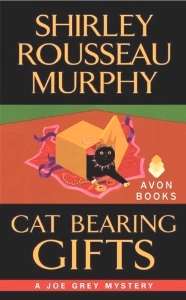 Cat Bearing Gifts
(#18)
A car crash, a missing treasure, a dead thief, and a suspicious blond divorcee have feline P.I. Joe Grey and his four-legged cohorts clawing for justice.

"Anyone unfamiliar with this cozy series will be quickly drawn in by the complete believability of Murphy's crime-solving felines and their helpful human companions." --Publisher's Weekly
---
Cat Telling Tales
(#17)
A suspicious fire, a tragic death, and a rash of unanticipated houseguests, both human and feline, inflame the investigative curiosity of our furry detective trio.

"This installment is truly heartwarming. . . A perfect little mystery. Joe Grey is the ultimate hero, and the message of love behind this tale is one that everyone should learn." --Feathered Quill
---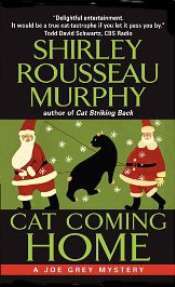 Cat Coming Home
(#16)
As a lonely prison cat provides the link between the mysteries, Joe Grey and his pals, in turn, help him find a surprising new home, a safe retreat in time for the holidays."

"The heartwarming stories of an orphaned child and a stray cat at Christmas will tug on more than a few heartstrings." --Romantic Times
---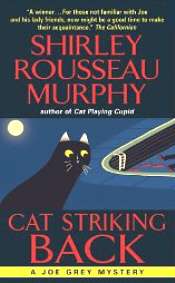 Cat Striking Back
(#15)
A murder without a body and burglaries without anything stolen nudge the cats' growing concern for the safety of their human friends.

"You will love the characters--the cats in the story are incredible and immensely lovable. A purr-fect mystery." --Armchair Interviews.com
---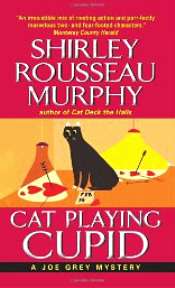 Cat Playing Cupid
(#14)
Who wants to ruin a wedding by reporting a newly unearthed corpse? Not Joe and his feline pals. Secretly the cats set out to identify the body.

"This is still a quality mystery, with excellent pacing, ratcheting tension, consistent characters, and suitably nasty villains. . . A must wherever the series has fans." --Booklist
---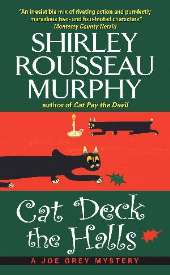 Cat Deck the Halls
(#13)
Instead of singing carols and climbing into Christmas trees, Joe Grey is faced with his most difficult case yet--and that's saying a lot for a wily tomcat who for years has been solving crimes the police can't even crack.

"Murphy's fans will be happy to curl up under a blanket as they savor the finely crafted suspense set against the backdrop of holidays feasts and festivities and the crashing waves of the Pacific." --Publisher's Weekly
---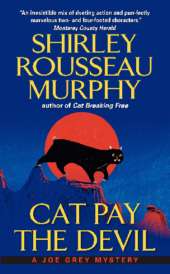 Cat Pay the Devil
(#12)
Joe Grey, Dulcie and their tattercoat friend Kit must put paws and whiskers together to capture a very nasty criminal before he strikes again.

"Murphy makes it easy to believe in cats that talk, think, and read better than many humans and solve mysteries as well." --Library Journal
---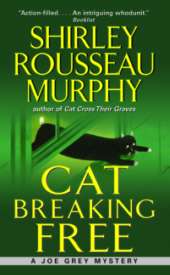 Cat Breaking Free
(#11)
The fur starts flying when a gang from L.A. comes up to tranquil Molena Point, California--the fur of Joe Grey, feline P.I., that is. When one of the gang is murdered, and a second mysterious death comes to light, he has no choice but to try and stop the crimes.

"A complex, well-crafted plot and lively, credible characters will leave fans purring with pleasure." --Publisher's Weekly
---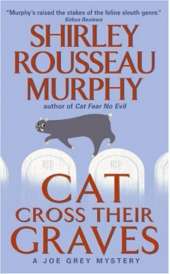 Cat Cross Their Graves
(#10)
When the graves of several vanished children are discovered, it seems the trouble is greater than tomcat sleuth Joe Grey and his tabby friend Dulcie ever imagined.

"The somber plot is leavened by the author's affection for her characters and their rewarding small-town lives." --Kirkus Reviews
---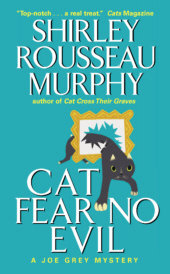 Cat Fear No Evil
(#9)
When a waiter drops dead at the feet of artist Charlie Harper during the opening of her solo show, Joe Grey and his tabby pal Dulcie know something is very wrong in sleepy Molena Point, California.

"The delightful mix of humans, sentient cats, mystery, and humor remains true to the preceding books in the series." --Booklist
---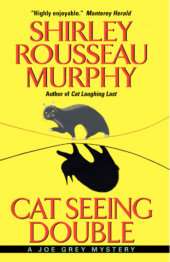 Cat Seeing Double
(#8)
Joe Grey, Dulcie and Kit are soon paw-deep in a tangle of jealousy, greed, and carefully planned retribution. They work the case as only cats can, passing information anonymously to the cops and making a heroic feline effort to nail the killer.

"Murphy's unconventional 'take' on the idea of undercover investigation has delighted cat lovers for years. . . Anyone who owns a cat will appreciate the little nuances Murphy has worked into her felines' personalities." --Monterey County Herald
---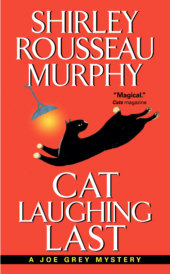 Cat Laughing Last
(#7)
Violence and theft at a yard sale? Murder because of an eBay auction? Joe Grey and Dulcie suspect that the criminal involvement is far wider than anyone imagines, and with their unique ability to break-and-enter where the cops can't go, they begin to gather evidence.

"The series premise remains delicious, executed with wry pungency and affection for life's small pleasures." --Kirkus Reviews
---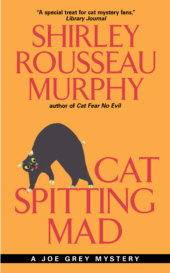 Cat Spitting Mad
(#6)
Joe Grey is mad enough to spit! No matter what Clyde, his irritating human "owner," says, he's not keeping his paws off this case, not when Max Harper's life and the future of law enforcement in the town of Molena Point are at stake.

"Cat lovers will cuddle right up to Joe and his pals, but the story has plenty of murder and mayhem for those who take their detective fiction straight up." --Publisher's Weekly
---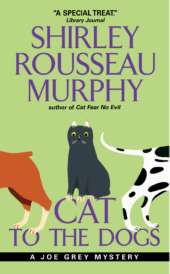 Cat to the Dogs
(#5)
Clyde, Joe's erratic but lovable human, thinks cats should stay out of police work, but Joe is not about to give up the chase. Mice are nice, but what cat can resist the chance to stalk a real killer?

"Clever plotting and lyrical prose offer top entertainment." --Kirkus Reviews
---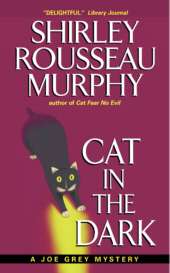 Cat in the Dark
(#4)
There's a new cat in town: Azrael, a renegade tom with a penchant for voodoo, a scorn for his fellow felines, and a nasty hatred of humans. How can Joe and Dulcie expose his criminal ways without letting untrustworthy humans in on the secret that certain select cats can think and talk?

"Murphy's raised the stakes of the feline sleuth genre." --Kirkus Reviews
---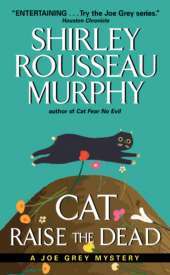 Cat Raise the Dead
(#3)
Many groups bring their dogs and cats for visits to nursing homes. But when Joe Grey and Dulcie take on this helpful work they discover multiple grisly murders and set out to track the killer.

"Funny, intelligent, fast-paced and sensitive--that's Shirley Rousseau Murphy's "Joe Grey" detective series!" --Library Cat Newsletter
---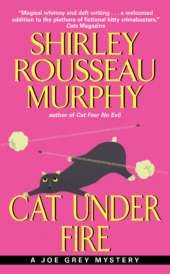 Cat Under Fire
(#2)
Joe Grey and Dulcie undertake an investigation which ends with release of a man wrongly accused, providing evidence the police missed that only a cat could have found.

"Clever dialogue, fast-paced action, humor, and interactions between cats and humans. . . Good fun for cat lovers and fans of offbeat fantasy." --Booklist
---
Cat on the Edge
(#1)
Joe Grey is the only witness to a murder. Escaping the killer, he becomes the hunted, and he's one scared tomcat--until he meets green-eyed Dulcie, a charmer with talents to match his own.

"Murphy provides intriguing possibilities and tantalizing glimpses into the mysterious world of cats. . .This is excellent reading . . . not to be missed!"
---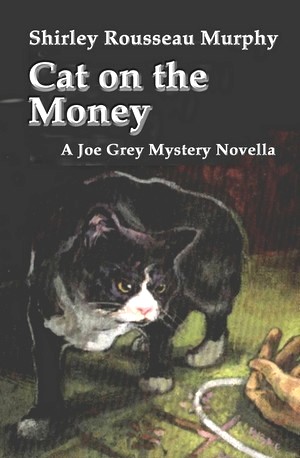 Cat on the Money (novella)
A short novella available only in ebook form. The first 8 chapters were originally published as a serial in Cats Magazine, which was discontinued before it was complete. This story comes between novels 6 and 7.

The ebook can be purchased for $1.99 at Amazon, Amazon UK, Barnes and Noble, Apple Books, or Kobo. Or you can download a free printable pdf copy here.